Motorbike Projects
Here at Artworx we have been customising all kinds of motorbikes with airbrush artwork for the last few years!
Below is a gallery of some of our previous motorbike artworx projects that have been completed.
---
Giger Theme Chopper aka 'The Beast' (2013)
This was an award winning Chopper build project that was our very first commissioned motorbike airbrush artwork. This bike had a HR Giger theme (Swiss airbrush artist, famous for biomechanical images and his work on the film 'Alien') and turned out to be an awesome first job!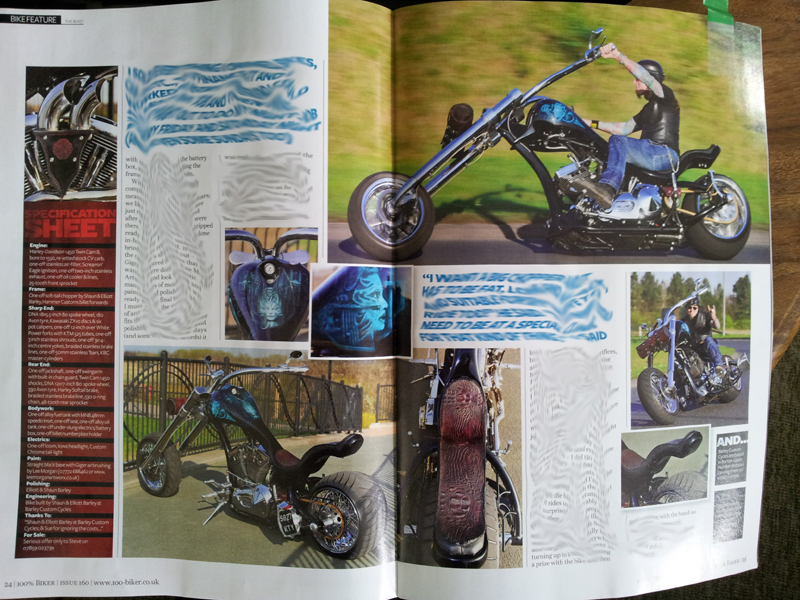 ---
S2 Lambretta aka 'Celtic Warrior' (2013)
This was a unique Lambretta with a patriotic theme, the airbrush artwork used the Welsh, Irish and Scottish flags in a simple (but very effective) and crisp design.
---
Breaking Bad Vespa (2014)
This was a very topically themed Vespa, as the Breaking Bad series was reaching it's peak of interest at this point. This was a really fun bike to paint as it was very unique paint job with lots of different elements to design and paint across the whole bike, including the tool case painted to look like a cracked block of the 'blue stuff'.
---
Honda VTR Firestorm 1000 'Kill Bill' (2015)
This was my own motorbike that was originially Bumble Bee yellow. So I decided to stick with the yellow colour scheme and I did a 'Kill Bill' theme across the motobike. This bike moved onto a new home a couple of years later, so it is out there somewhere!
---
Suzuki Intruder 'Skulls & Roses' (2015)
We were asked to do a skull and roses theme on the tank of a Suzuki Intruder, and this was a very detailed piece of artwork that was subtle but effective.
---
Martek Sister Bike (2015)
This was one of our most interesting projects to date, this was the sister bike to Guy Martin's original Martek Bike. The original artwork was outdated, and the new owner wanted the bike to pay homage to Guy Martin's Turbo Martek that he had built to take on the Pikes Peak Hillclimb Event in the USA. This has been winning awards for years since.
---
Honda Fireblade 750 Four (2016)
This was a restoration project that needed a modern 'nod' back to the original artwork that would have once been on this stunning bike. We used candy paint on this burgundy and gold paint job to really make the finished motorbike look something special.
---
Harley Davidson aka 'Mini the Minx' (2016)
This green and gold themed Harley was probably the most complex paintwork that we had done to date. An intricate Celtic cross design was needed on most panels, and this was hours of painstaking masking and spraying with no room for error. We hope you agree that the overall project came out amazing, and is really one of a kind.
---
Suzuki GSX 1400 (2017)
This bike was completed over a few years, with different bike parts being done as and when needed. The owner wanted to keep the original feel of the motorbike, but was blue flames incorporated across different panels and the original tank atwork.
---
Harley Davidson - Saxon (2017)
The owner of 'Mini the Minx' loved his previous Harley paintwork so much, that he bought a second bike for us to paint. This time it was painted a lush candy red with hand painted Saxon themed artwork all over the bike, the overall look of this bike came out stunning and it is a real head turner.
---
Tribute Tank (2017)
This was a very personal airbrush job to the owners, they wanted a double portrait airbrushing onto a motorbike tank with a personal quote. I only had an old photograph of the couple to go off so the challenge was on to get the detail into their faces and make sure the final artwork was an appropriate tribute to them both, and something that could be treasured for years to come.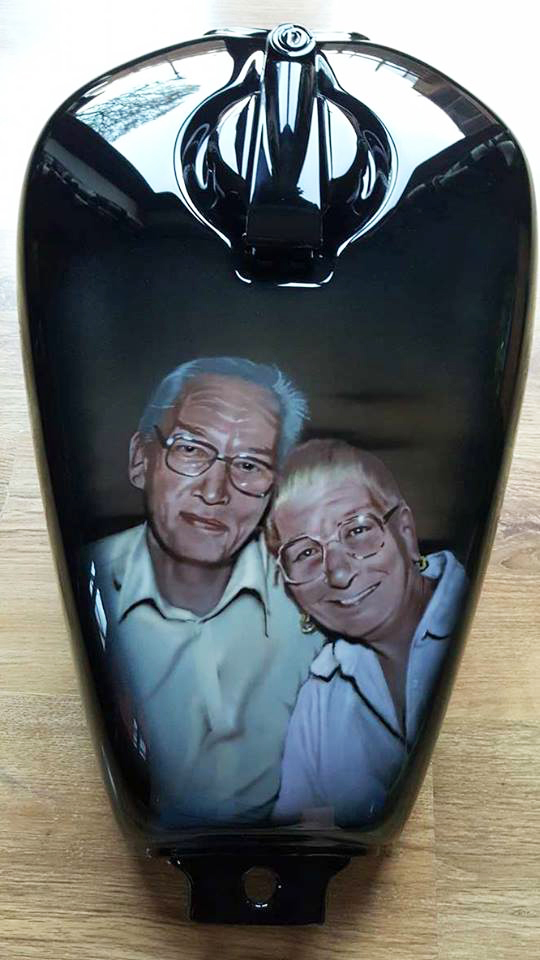 ---
Harley Davidson - Ghost Flames (2018)
Flames are always a popular theme for artwork, so it was nice to do a Ghost effect on this motorbike tank. The flames complimented stand out Skeleton on the main tank, and in the sunshine the flames are subtle but suddenly shine bright.
---
Harley Davidson - Yellow with Chequered Flag (2019)
There was a nice story behind this classic motorbike, the owner sold this Harley some years ago and regretted the decision almost instantly. He was unable to trace the bike for years, but one day a friend (a twist of fate?) saw it for sale on ebay and the original owner was reunited with the bike. When he had the bike in his possession it needed a revamp, so he commissioned Lee Morgan Artworx to update the yellow paintwork with a new chequered flag, wanting a peeling back effect on the tank. This is another unique bike that we are very proud of! So proud that the owner kindly let us display this at our Open Event in June 2019 at The British Ironwork Centre.
---
Trike Tank aka 'Hells Gate' (2019)
We painted a very intrictate design of 'tonnes of skulls' on the tank of a trike. Each skull was unique and freehand airbrushed, this one took some serious patience but the overall effect was great at the end!
---
Kawasaki Tank - Eddie Iron Maiden (2019)
This Kawasaki tank was painted for an Ironmaiden lover, who wanted an Eddie theme. Eddie was handpainted 'bursted out of the tank using a metal peel effect. There were many hours of airbrushing in the small details on Eddie, and this design was so popular that Janick Gers (Iron Maiden guitarist) signed a photograph of the tank!
---
Bandit 1200 - The Royal Welch Fusiliers (2020)
Our customer served for 22 years in the Armed Forces. His first 14 years was with the 1st Batallion (23rd of Foot) Royal Welch Fusiliers (RWF) from 1992 until 2006. They were then dispanded along with the Royal Regiment of Wales (RRW), and amalgamated to make the 1st Batallion Royal Welsh Regiment in which he served his last 8 years' service (until 2014).

The Royal Welch Fusilier Regiment was Formed existed between 1689 and 2006. In his time of service our customer did many operational tours and lost good friends in the line of fire and due to PTSD once leaving the army. This bike is called 'The Fusilier Bike' and is dedicated to all the fallen soldiers who have served within the 1st Batallion Royal Welch Fusiliers.
The finished bike is a real head turner, we look forward to seeing the reaction to this Bandit 1200 project from upcoming shows!
---
Indian Scout - War Memorial Tribute Tank (2020)
This was an enjoyable motorbike tank project, that also involved airbrushing a chrome effect. The original tank had chrome Indian Scout stickers on the sides, so these were removed and replica logos were actually airbrushed onto the tank.

The paint work is a war tribute, using famous quotes from Winston Churchill and has an RAF theme using Lancaster Bombers.