Lee Morgan Artworx Latest News
Please scroll down for more...
May 2021
With lockdown restrictions beginning to ease, hopefully this will mean that there will be opportunity to attend all sorts of shows and races this Summer. Our ambassadors, the Trailrippers, have received their brand new custom Endura race jerseys ready to take on some Downhill MTB racing! We think these are amazing and we hope that they have fun racing again.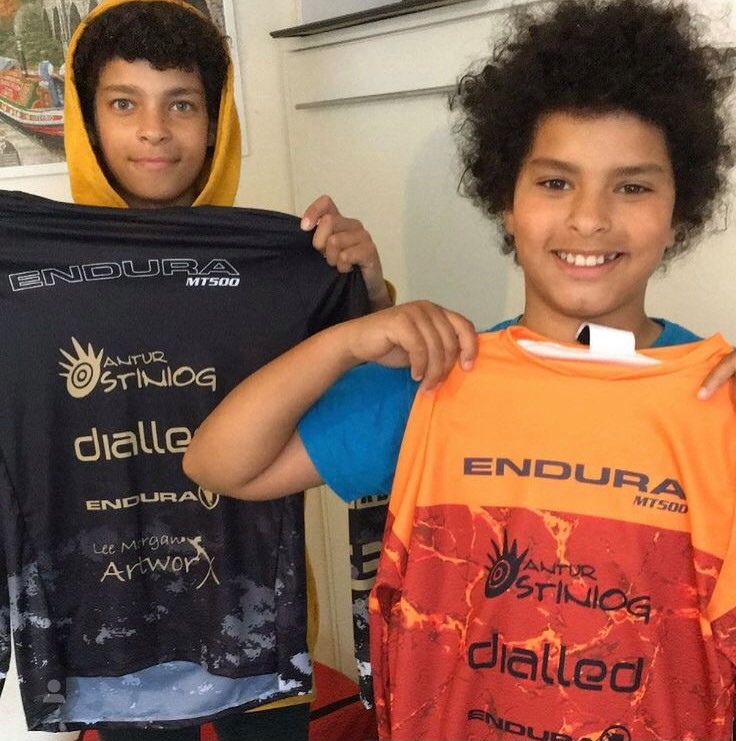 This month also sees a change within the business itself. Lee is now joined full time in the business by the his wife Steph (aka "The Boss"), and she will be doing a wide range of tasks including preparation of your items and making them shine after they are painted. So please get in touch with your custom artwork ideas today, we are happy to discuss and give you a free, no obligation quote.
---
April 2021
Lockdown has been useful for some things, it has meant that we have been able to crack on with developing our unit!

We now have a fully functioning office space with a great view over the workshop. This is a space that allows for design work to be completed away from the noisy work area and for customers to come into when allowed to discuss ideas, look at previous work and relax!
---
March 2021
We are proud to announce that we have been working with the team at Atherton Bikes for the past 18 months on the development of their innovative custom mountain bike brand.
This has been a very exciting opportunity, and the first 50 bike frames have now been sold and many of them are now out there shredding around the globe.
Each Atherton Bike frame uses additive manufacturing technology to 3D print titanium lugs that are bonded to carbon tubes, each frame being made to the specifications of the customer.
Once bonded together the frames come to us at Lee Morgan Artworx HQ and each are painted and lacquered to a high quality finish that compliments the materials that are used in the production of these frames.
Check out the Atherton Bikes web page for more information on this up and coming bike brand.
Photo credits: Dan Griffiths (Atherton Bikes)
---
February 2021
It's been a difficult winter for everyone for lots of reasons so we have tried to knuckle down and keep pushing forward here at Artworx HQ. We now have an office and storage space on top of the paint booth, big thanks to G-Hive and MBH Maintenance for their hard work in getting this sorted.
We are also stoked to announce that we have new ambassadors for 2021, we would like to introduce the trailrippers.
The trailrippers are 12 year old Nathan and 10 year old Ruben, they live and shred in Dyfi and are two up and coming young mountain bikers. They have both been racing from a young age and dream of becoming professional DH Mountain Bikers when they are older. We believe they can go all the way and are proud to support them on their journey. You can check them out on instagram and youtube @trailrippers
Photo credits: Lee Bell, Oliver Photography, Dan Struthers
---
January 2021
We would like to wish you all a happy new year for 2021, and although 2020 was a year that we might wish to forget, it brought us new opportunities here at Lee Morgan Artworx!
In June 2020 we moved from our small studio space at The British Ironwork Centre near Oswestry into our very own large unit nearer to Oswestry town centre!
Since moving into our unit we have had a purpose built spray booth built with office and storage space (thanks to Grant from G-Hive) that is big enough to fit a transporter.
This has opened up so many opportunities to paint larger numbers of items as well as physically larger items. So please get in touch if you want to know more!
---
Media
Here are a selection of videos from 2019 and 2020...
Lee was recently interview by Don Johnson, from Airbrush the Magazine (from America). The interview is below, and includes some background information on Lee and helpful hints and tips for airbrushing.
Below is a video of Lee painting a Jaguar XJ bonnet in a Game of Thrones theme.
This is now on display in the main car park at The British Ironwork Centre.

Original music composed and performed by Dom Kelly Acoustic.
Below is a video of the finished VW T4 bonnet painted in an Avengers End Game theme.
This is now on display in the Lee Morgan Artworx unit at the British Ironwork Centre.