Lee Morgan Artworx Latest News
Scroll down for more...
---
July 2022
Wow, Summer has definitely arrived and it's been fantastic to see so many races and events happening again and everyone enjoying themselves.
One of our ambassadors (Nathan from the Trailrippers) has been excelling in his downhill races this season with 6 wins so far and a good chance of winning the overall. He also took 3rd place at the British Cycling National Champs in Glen Coe, well done Nathan!
We were stoked to team up with Canyon and the team at FMD racing who asked us to custom paint Tahnee Seagrave's Canyon Spectral Ebike to match her new signature TS57 Fox racing clothing range. We hope you agree that this is turned out great and definitely one of a kind.
We have also continued to follow the progress of the Continental Atherton Race Team through the 2022 season, and Andreas Kolb has hit the form of his career so far. He achieved his first elite men's podium in Leogang, then won the dual slalom at Crankworx Innsbruck, then he became the European Champion and then followed this up with two more podium places at Lenzerheide and Andorra!
Charlie Hatton's 2022 custom painted helmet is still going strong and he has achieved some career best places inside the top 10 in the men's elite downhill, and he won the Crankworx Innsbruck Downhill race.
---
June 2022
Spring was definitlely a busy one! We custom painted this stunning 100% MTB helmet for Lew Buchanan ready for the 2022 Enduro World Series.
We also made sure that we took some time to drive up to Scotland for the return of the Downhill World Cup! The weather was very wet but that didn't ruin the party atmosphere and it was amazing to be amongst the riders and fans once again. We were alsostoked to see Charlie Hatton qualify in 2nd place in the men's elite!
We also managed to get across to the 2nd round of the British National Series in Llangollen, where some of the best British Downhillers were racing hard (including Steve Peate, Danny Hart and Laurie Greenland). Conditions went from dry and dusty in practice to damp and drizzly on race day, and the GT Malvern's Classic team put on a great event.
It was great to see Charlie Hatton podium with a 2nd place in the elite men's category, and we were really happy to be able to support our ambassador Nathan who rode hard but unfortunate crashes in his race run cost him a podium this time!
---
May 2022
We definitely know that the sporting seasons are getting into full swing! It's been seriously busy for us, with athletes and race teams needing bikes and helmets ready for racing as well as customers wanting fresh paint work ready for motorcycle and biking holidays.
Our ambassadors and associates have been out on the track and trails in recent weeks.
Max Feeney has been putting his custom painted Bell race helmet to the test on his supermoto. Jim and Tod have also been showing off their custom painted ION fullface helmets at Welsh Enduro races.
The Trailrippers have also been shredding hard and have tasted success with podiums for both Nathan and Ruben in the Mini Downhill and Gravity Enduro.
The pros have also been out having completed the first round of the DH World Cup at Lourdes, competing at the Sea Otter Classic and other local and national races.
(Above) Charlie Hatton shredding up the new Bike Park Wales jump line at Vanta Jam.
Photo: Lee Howells
(Above) Andreas Kolb went for it in the Californian sun at The Sea Otter Classic 2022 in the dual slalom. Taking home third place!
---
April 2022
We are really happy to be able to share with you the custom painted Continental Atherton Race Team helmets for 2022, we worked with the team at Continental Atherton racing and directly with each of the riders to come up with unique designs.
These designs are inspired by the 2022 Endura race kit and use the team colours with some additional bling in the form of pearl and sparkle effect paints.
Which one is your favourite?
(Left to Right: Charlie Hatton's, Dom Platt's, and Andreas Kolb's)
Photos by Jack Tennyson
---
March 2022
It's that time of year again, the first round of the UCI DH World Cup is fast approaching and it gets busy helping to get the Continental Atherton Race Team kitted out ready for the new race season.
We've mega busy painting all of the new DH bike frames for the team and also working with some of the team on designing their custom Bell helmets for this season. We can't wait to share this with you next month!
We have recently teamed up with Jim and Tod from Pinned TV to custom paint both of their ION Full face MTB helmets. You can find out more and watch the related YouTube videos here.
We also custom painted an aero helmet in a pearl white and pink POC logos for 17 year old Fred Meredith. Fred then went on to break the juniour hour record, and we would like to congratulate him on his amazing effort and achievement!
GCN were onsite at the velodrome to film Fred's effort on the day, and you can see their YouTube video below.
---
February 2022
February has been a challenging month, after starting the year on such a high. We had to say goodbye to two friends in a short space of time, and we would like to pay tribute to them here.
Sean operated his business from the unit next door to ours, and he specialised in custom audio, air ride suspension and conversions of all kinds. He always had big ideas and loved his work. We did some custom work for Sean a few years ago and developed a friendship from there, and we are grateful to him for introducing us to the place that we now work. Over the last two years we worked with Sean on several projects, and a few examples of our collaborations are below.
We also want to pay tribute to one of the kindest men you could know, Geoffrey Moore. We custom painted Geoff's trike in a full sorcery theme back in 2020. Geoff loved his trike and gave Lee free reign to cover every panel, and the finished piece has been on display at our unit ever since (unless Geoff was out riding it around town that is!).
Geoff had a deep passion for the martial arts, having trained for 45 years and reaching the highest competitive grade in Judo Kata (fifth Dan black belt). Geoff was a combat sport coach for many years also holding black belts in Japanese Jujitsu, Kickboxing and Japanese Sword. Geoff had just been awarded the honorific title of Shiahn (which is Master Teacher and Role Model). In traditional martial arts these titles run parallel but independent of the belt system and are given as separate honours, and this is the highest title that can be awarded.
Our thoughts go out to their family and friends, RIP Sean and Geoff.
---
January 2022
We would like to wish you a Happy New Year! It's always exciting to enter a new year and wonder what it might bring.
January has been an eventful month already, we had a visit from Jim and Tod of Pinned TV to drop off their ION full face helmets for custom paint jobs. Check out the YouTube video of their visit (below) and keep an eye on their channel for future videos when the paint jobs are finished.
This month also saw the official release of the Atherton Bikes online sales for their production bikes. You can check out the website here. At the end of 2021 we had Atherton Bikes media team pay us a visit to film the painting part of Atherton Bikes for an upcoming film project.
The filming was for Gee Milner's Dream Build YouTube video showing the whole manufacturing and build process, you can watch this below. We make our appearance at around 19 minutes 37 seconds!
We also finished off our latest ambassador, 14 year old Max's Bell Race Helmet. His industrial style (with a neon twist) paint job will match his custom leathers nicely and we can't wait to see him wearing it out on his motorbike!
---
December 2021
Wow, what a year! We can't believe that 2021 has come to an end, but we have exciting things lined up for 2022!
We would like to take this chance to wish all of our past, present and future customers a Happy Christmas and New Year.

We have a 10% discount offer running for January and February 2022, so please take a look at the poster below for more information.
We've had a few projects to try and finish before the end of the year, including a custom painted Rourke bicycle frame for Adrenaline Sporting Events. This was designed with their brand colours in mind and was a bit special. We made a short YouTube video of the process, you can check it out below.
---
November 2021
It's been an awesome month, with lots of different custom airbrush projects on the go! Lee has also been working away on his own custom paint project after hours and is super excited to get his custom painted GIANT Propel frame built up soon!
We've also taken on a new ambassador to join our current ambassadors, the Trailrippers. This is Max (instagram: madmaxi_33), a 14 year old who can turn his hand to many sports. His ambition is to become a stunt performer and he is currently into motocross, mountain biking, Jiu Jitsu, MMA, freerunning, supermoto and BMX.
We are stoked to have Max onboard with the Lee Morgan Artworx crew, and he will be having his Bell motorcycle helmet custom painted by us soon.
We've also been updating our existing you tube channel that was looking for tired and neglected! We aim to grow this channel over the coming months and add more up to date content of upcoming custom airbrush project. So if you can, please click the link below and subscribe, like and share!
---
October 2021
We've had a busy few weeks at Artworx HQ, lots of bicycles and motorcycles are being readied for off season pampering and receiving some new paintwork. If you need yours doing this off season, then we recommend that you get in touch soon so we can get you booked in.
We've been working on this MK2 Escort tribute bike, something that will be unique to it's Ford enthusiast owner.
We've also added more clothing lines to the merchandise section of our online shop, everything is printed to order onsite so click here to check them out.
---
September 2021
At the end of August we had a blast at The Malvern's Classic 2021 and The first ever Valley Burner event!
We had a stall at The Valley Burner and watched some seriously harcore riders take on a tough cross country track in seriously hot conditions.
The Malvern's Classic was a great experience, seeing so many families enjoying the sport of mountain biking and so many businesses showcasing their products, just mind blowing!
We were also stoked to see one of our ambassadors, Ruben (Trailrippers) take two podiums. Great effort from all the young people in the races, so good to see them on the hill again!
We have also had a few full day airbrush lessons over the last few weeks, and more to come. If you would like to have a go at airbrushing or fancy buying this as a gift experience then take a look at our lessons page for more information.
The autumn and winter period are beginning to book up quickly, so if you are thinking of having any custom work done then we recommend getting in touch soon so we can fit you in.
---
August 2021
August is usually a quieter month for us, everyone is out using their motorcycles, road bicycles, mountain bikes, vans and show vehicles whilst they can. This can only mean one thing though, that autumn and winter are the opportunity for people to get their paint work sorted out ready for 2022! So we recommend booking in early.
We were very proud to see that one of our paint jobs was a multiple award winner in a recent show. The Royal Welch Fusilier themed Bandit 1200 won several awards, including best paint work at the Bandit Rally 2021.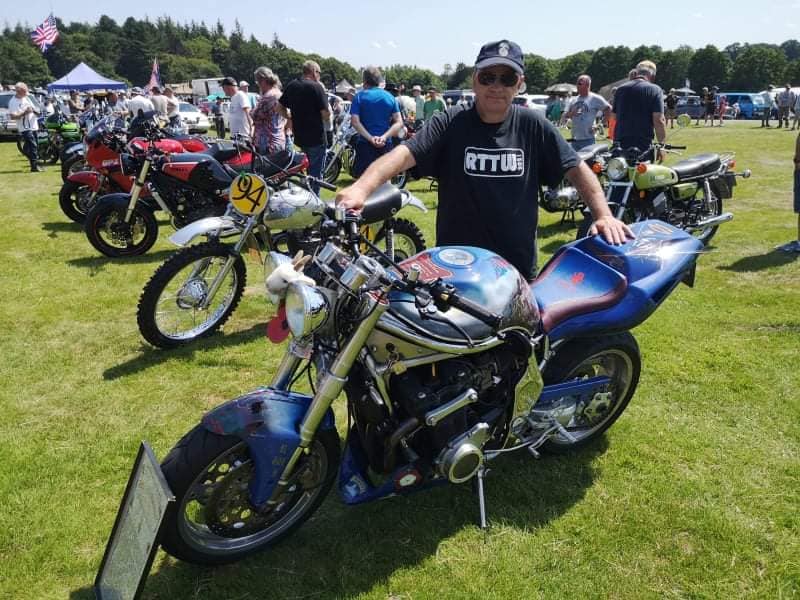 It was also great to see the Atherton Racing team continuing to progress through the UCI DH Mountain Bike World Cup season. The team raced at Maribor and the race runs saw Charlie Hatton have an unfortuate crash, but Andreas Kolb rode into 16th place with no chain and Mille Johnset took a solid 7th place.
We are also going to be both participating in, and displaying on our own stand, at The Valley Burner event at the end of August. This is a family mountain biking event local to us, just outside of Oswestry and is well worth entering. We are proud to be supporting Adrenaline Sporting Events and we look forward to working with them much more in the future!
---
July 2021
It's been another crazy busy few weeks in which we have worked hard on an exciting custom artwork project for the Continental Atherton Race Team.
The race team had their new custom helmets in time for the second round of the Downhill World Cup in Les Gets, and they wasted no time in showing them off on an awesome track. Unfortunately Charlie Hatton had a big crash in practice on qualifiying day and his helmet did it's job and saved his head, but it was smashed and won't be able to be used again! Andreas Kolb had a wild race run and crashed out down the bottom a wet course, but he is all good and kept the crowd entertained. Mille Jonhset had a stormer of a race run and came 4th, taking her first ever elite women's podium!
---
June 2021
The last few weeks have been very busy; we've had a lot of different projects coming through the door that we have been working on. We can't share all of these projects with you just yet, so watch this space!
We completed a very unique VW Caddy engine cover and air ride tank custom paint job, these have been commissioned as part of a full show van build that will blow your socks off! Look out for finished photos and a video in the next few weeks. We have also been getting creative with clothing, styling up the Artworx logo and making custom hoodies for work and home. We are thinking about making some custom clothing items available to purchase online, so if you are interested then just drop us a message.
---
May 2021
With lockdown restrictions beginning to ease, hopefully this will mean that there will be opportunity to attend all sorts of shows and races this Summer. Our ambassadors, the Trailrippers, have received their brand new custom Endura race jerseys ready to take on some Downhill MTB racing! We think these are amazing and we hope that they have fun racing again.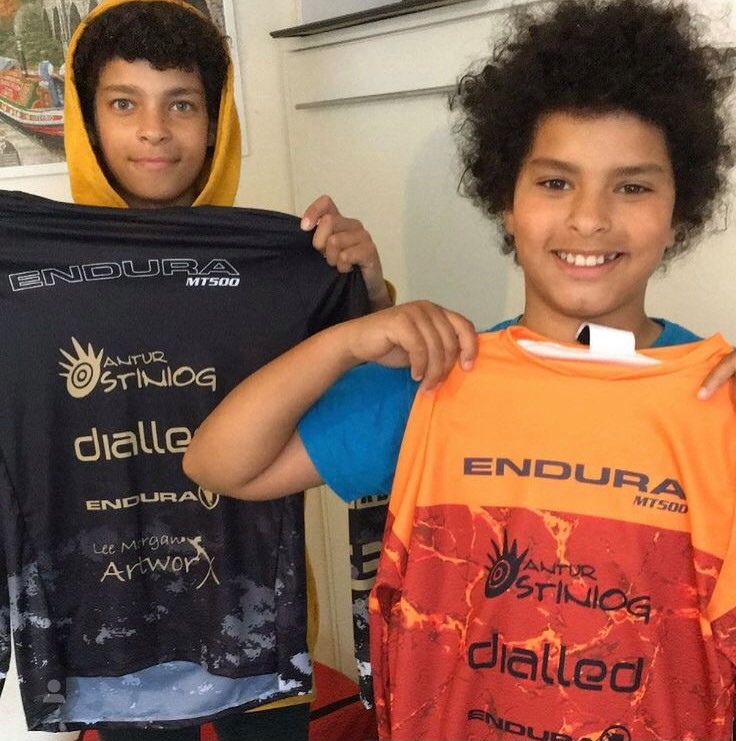 This month also sees a change within the business itself. Lee is now joined full time in the business by the his wife Steph, and she will be doing a wide range of tasks including preparation of your items and making them shine after they are painted. So please get in touch with your custom artwork ideas today, we are happy to discuss and give you a free, no obligation quote.
---
April 2021
Lockdown has been useful for some things, it has meant that we have been able to crack on with developing our unit!

We now have a fully functioning office space with a great view over the workshop. This is a space that allows for design work to be completed away from the noisy work area and for customers to come into when allowed to discuss ideas, look at previous work and relax!
---
March 2021
We are proud to announce that we have been working with the team at Atherton Bikes for the past 18 months on the development of their innovative custom mountain bike brand.
This has been a very exciting opportunity, and the first 50 bike frames have now been sold and many of them are now out there shredding around the globe.
Each Atherton Bike frame uses additive manufacturing technology to 3D print titanium lugs that are bonded to carbon tubes, each frame being made to the specifications of the customer.
Once bonded together the frames come to us at Lee Morgan Artworx HQ and each are painted and lacquered to a high quality finish that compliments the materials that are used in the production of these frames.
Check out the Atherton Bikes web page for more information on this up and coming bike brand.
Photo credits: Dan Griffiths (Atherton Bikes)
---
February 2021
It's been a difficult winter for everyone for lots of reasons so we have tried to knuckle down and keep pushing forward here at Artworx HQ. We now have an office and storage space on top of the paint booth, big thanks to G-Hive and MBH Maintenance for their hard work in getting this sorted.
We are also stoked to announce that we have new ambassadors for 2021, we would like to introduce the trailrippers.
The trailrippers are 12 year old Nathan and 10 year old Ruben, they live and shred in Dyfi and are two up and coming young mountain bikers. They have both been racing from a young age and dream of becoming professional DH Mountain Bikers when they are older. We believe they can go all the way and are proud to support them on their journey. You can check them out on instagram and youtube @trailrippers
Photo credits: Lee Bell, Oliver Photography, Dan Struthers
---
January 2021
We would like to wish you all a happy new year for 2021, and although 2020 was a year that we might wish to forget, it brought us new opportunities here at Lee Morgan Artworx!
In June 2020 we moved from our small studio space at The British Ironwork Centre near Oswestry into our very own large unit nearer to Oswestry town centre!
Since moving into our unit we have had a purpose built spray booth built with office and storage space (thanks to Grant from G-Hive) that is big enough to fit a transporter.
This has opened up so many opportunities to paint larger numbers of items as well as physically larger items. So please get in touch if you want to know more!