Motorbike Projects 2022 onwards
Here at Artworx we have been customising all kinds of motorbikes with airbrush artwork for the last few years!
Below is a gallery of some of our previous motorbike artworx projects that have been completed from 2022 onwards, please scroll down to see more.
---
Harley Davidson - Black Candy over purple (2022)
We had a customer come back to us for a paint job on a second Harley Davidson. The design brief was that the paint needed to have purple with skulls but they needed to be almost invisible.
We like a challenge, so this stunning purple base then had skulls painted on and they were hidden under Candy Black with gold painted logos and stripes. The skulls become visible when close up and in the right light, but from a distance the bike appears almost black.
---
Harley Davidson - Martini (2022)
We had a Harley Davidson come in for a full Martini themed paint job. The customer wanted this one kept simple, and we hope you agree that the end result is very classy. Clean lines and lots of white, simple but certainly not easy to paint!
---
Harley Davidson - Green with Gold Pin Stripe (2022)
This tank needed to matched to an existing mudguard paint job, so this was another challenge!
Luckily the owner still had some of the green paint (as trying to get an exact colour match can be almost impossible) so we were able to sort out the imperfections in the tank, paint it green and then match the gold pinstripes. A simple swirling pinstripe was used on top of the tank, keeping a simple but stylish look to the bike as a whole.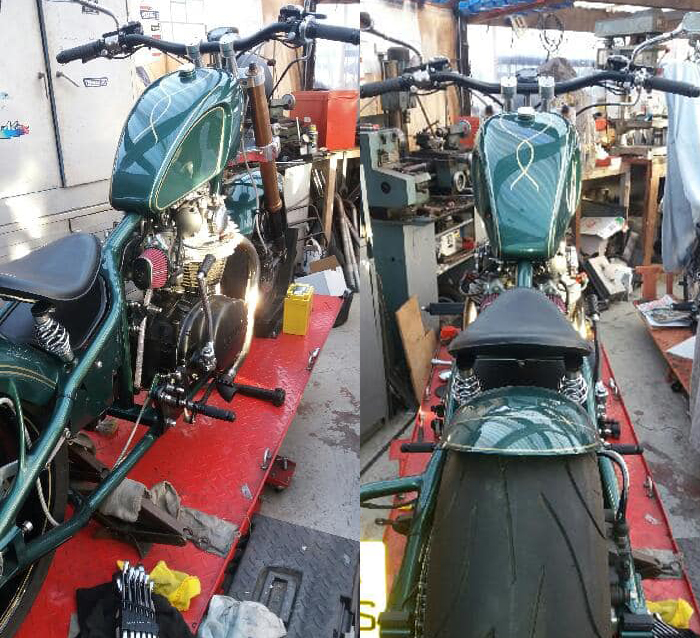 ---
Heritage Harley Davidson
We had to do some fabrication work on this heritage HD that was in need of a full repaint.
Taking the extra time to get the prep right really paid off with this one, finished in grey and cream with a black pinstripe, with gloss finish on the grey areas and matt finish on the cream areas.
---